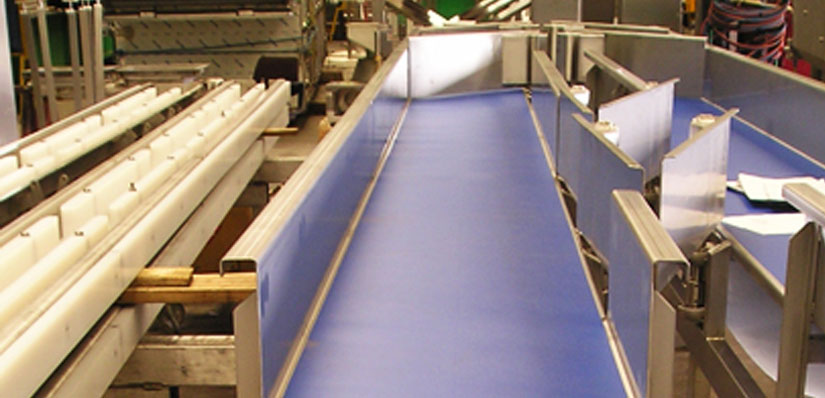 Flat Belt Conveyors
Conveyor Systems
Flat conveyor belts, as the name suggests are the flat belt rotating over pulleys and act as a medium of transportation for heavy loads over large distances in industries.
At Sawhney Industries, we design our products as per the international standards. Using all types of modern technologies and equipment, we trade, manufacture and export many different kinds of conveyor belts. The flat belt conveyors manufactured and exported by us are of supreme quality and are manufactured using finest components. Our raw materials are acquired from various trusted vendors in the market. Our each product goes through rigorous testing processes in order to ensure their flawless functioning. Brake motors, slip-proof pulleys and reverse operation drive at middle furnished in our belts provide them the ease of operation. As per the requirements, these flat conveyor belts can be both ceiling-hung and floor-supported.
In order to carry inclined products with ease, we fabricate the conveyor belts as flat, inclined and also a combination of both. We fabricate the flat belt conveyors in various sizes, length, and dimensions. These belts find their usage in various industries and are highly durable. Also, we customize the flat belt conveyors on demand of our clients. Even for carrying heavy loads, our conveyor belts offer frictionless motion as they have been made up of dimensionally correct measurements, design and are very light in weight. These best quality conveyor belts will meet your project requirements effectively
Flat Belt Conveyor manufactured by us comes in the following variants:
Fabric
Rubber
Steel mesh
Plastic
Combinations of above
Trough-belt portable loaders
Flat belt loaders
Features of our belts are as follows:
High load bearing capacity
Low maintenance
Minimum maintenance
Strongly built
Dimensionally accurate
High Speed
Low noise
Labor saving
High handling capabilities
Durable
Reasonable price
Light weight
Simple in construction
Our flat conveyor belts have a wide range of applications in corporate houses and heavy industries. They are being used as transmission belts in food stuffing machines, sand and oil machinery. They are also used in material handling machines, escalators or elevators machinery, automobile, agriculture and many more.
Due to the sturdiness, excellent performance and durability of our products, they are highly in demand by the customers. Additionally, our entire range of flat conveyor belts is customizable. Team up with our highly experienced and efficient engineers to build up an ideal product as per your requirement. Feel free to contact us for further details and quotation.