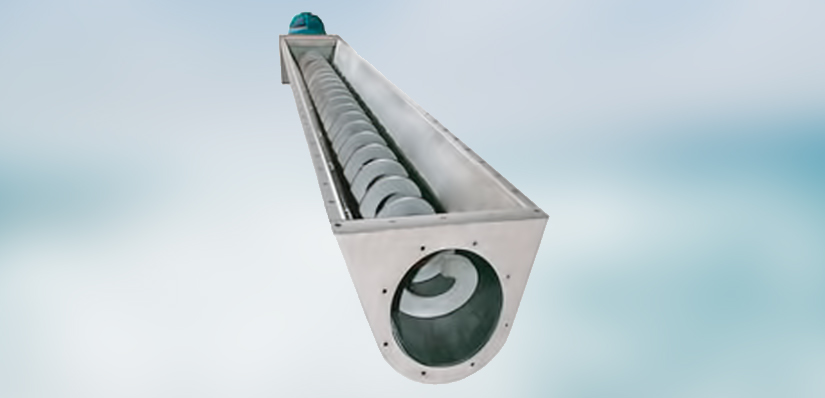 Shaftless-Screw
Screw Conveyors
Shaftless screw conveyor comes as an alternative to the traditional shafted conveyors. An additional benefit of these conveyors is that they are used for larger volume capacity and for the materials that might tangle up or those that have variable particle size. There is no intermediate bearing that ensures obstacle free material handling. Due to the usage of fewer parts in shaftless screw conveyors as compared to the conventional conveyors, the lifetime maintenance cost reduces. Also, side and end-to-end connections are not possible in shafted conveyors; shaftless screw conveyor offers solution to tackle this problem.
The shaftless screw conveyors manufactured by our firm are highly durable and resistant because of the fine quality of materials used, oversize thickness and a special manufacturing processes. The highly enclosed trough prevents slightest of material leakage. Lower RPMs and higher trough loading maximize the quantity of products conveyed. To enable the direct transfer of materials from one conveyor to the other, end bearings and hanger bearings are eliminated from the conveyor. The products built by us offer very reliable conveying method, zero-clearance between the spiral and trough and is extremely space saving. They are capable of operating over large distances. Even the sticky and stringy materials are easily transported using our shaftless screw conveyors and also the materials that vary in volume, size, and capacity. Our products undergo various testing processes to ensure their flawless functioning. All the products are made using the advanced technologies and latest machineries. The customized parameters allow the conveyors to be customized as per the demand of the customers. All the raw materials used at Sawhney industries are procured from the best and trusted vendors of the market making our products are qualitative and valuable.
The main domains where shaftless screw conveyors used are:
Wastewater or solid waste treatment plants
Vegetable and fruit processing plants
Sugarhouse rejects
Beverage industries
Meat processing plants
Slaughterhouses or abattoirs
Heavy industries
Mining
Restaurants and canteens
The extensive features are:
Easy to access and easy to clean
High efficiency
Little maintenance
Less wear and tear
Odorless operation
Less power consumption
High degree of self-cleaning
Complete emptying
High tensile strength
The range of shaftless conveyors manufactured by us are extensively used in various industries and thus, is in high demand by the customers. Feel free to contact us for any assistance. Our efficient engineers are always ready to guide you through your requirements.